Low Calorie, Low Carb, Low Sodium Bread Substitute with Crunch!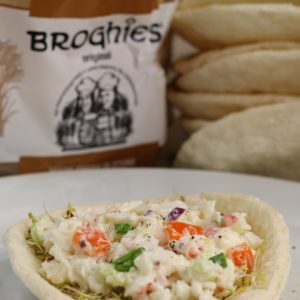 A Broghie is a crunchy, bread-plate sized, round, disc-shaped, bowl-shaped bread substitute with no fat, low carbs, no preservatives, no artificial flavours or artificial colours, no sugar, and only 20 calorie food that is suitable for many diets.
Broghies popped grains are extremely versatile. Use them instead of bread, bagels, crackers, or tortilla chips and eliminate the fat, the oil and the frying completely.  Perfect for scrambled eggs and bacon, fresh fruit and yogurt – breakfast to go.  Simple.
Broghies popped grains are a favorite to people on special diets like: Atkins, Weight Watchers, Slimming World, Diabetics, Low Carb, Low-Calorie Diets. There are two types of Broghies. The original Broghies, which is made solely from wheat and salt and Broghies Tostada which is made solely from masa, corn and salt. Since there are no added chemicals and Broghies have no oil, they stay fresh for six months and cost about the same as bread.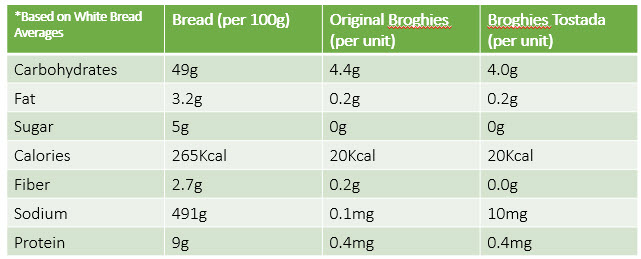 We don't add flavourings or preservatives. We wanted you to be able to use them for all options: salty, sweet, snacks, lunches, parties and dinner. We wanted Broghies to be healthy.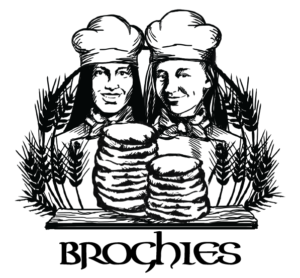 Your Poppabilities are Endless.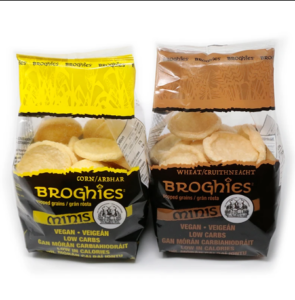 New Broghies Minis!
Broghies popped grains are found in grocery stores internationally usually in bakery departments and deli departments . In stores where Broghies are made on site, you can watch the Broghies pop out of an interesting machine and often you'll see a crowd of people watching after hearing the emanating POP sound. They are usually made fresh in store.
Currently, Broghies are found in Canada, Australia, USA, Ireland and soon to be in other countries. Use our Where to Buy Broghies Search Now!
Why is it called Broghies?
On a solid base of familial heritage, Co-founders, Ken Tracey and Terry Brush both have daughters named Broghen and Brogyn and they wanted a legacy for their daughters. Tracey and Brush, both from small town Ontario, Canada, own a company called Garavogue and Broghies popped grains is one of their product lines. Both with roots originally from Ireland, Garavogue is named after the Irish River.
What are People Saying about Broghies?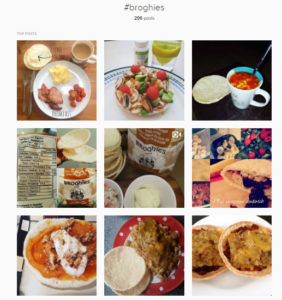 On Instagram #Broghies
https://www.instagram.com/explore/tags/broghies/
#Broghies on Twitter
https://twitter.com/search?q=%23Broghies
https://www.reddit.com/r/EatCheapAndHealthy/comments/3gss5g/spicy_deli_style_chicken_broghies_less_than_10_to/
Miss Leelas Sassafras
https://missleelasassafras.wordpress.com/2016/10/30/broghies-my-new-obsession/
NipTuckFoodBlog
http://theniptuckfoodblog.blogspot.ca/2013/06/chicken-bacon-ceaser-salad.html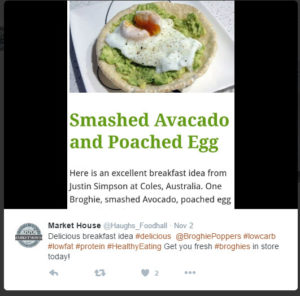 My Fitness Pal
http://www.myfitnesspal.com/nutrition-facts-calories/broghies
ChickAdvisor
http://www.chickadvisor.com/item/broghies-pop-bread/
MamtoGlam
http://mamtoglam.com/home/2016/5/26/something-new
FitlessFlavour
http://www.fitlessflavor.com/week-14/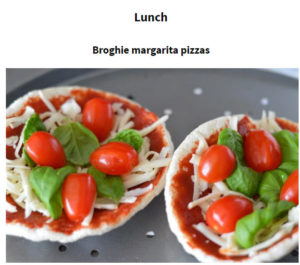 CalorieCount.com
https://www.caloriecount.com/calories-garavogue-broghies-i443747
News
https://www.thestar.com/life/food_wine/2012/02/22/korean_poppers_snacking_craze_takes_canadian_supermarkets_by_storm.html